In this article I'm going to show you the best ways to drive your car across the English Channel and the North Sea. Specifically, I'm going to show you the fastest, cheapest and the easiest routes to get your car from Europe mainland to the United Kingdom.

Let's jump right in.
1)     The English Channel & the North Sea
The English Channel is a sea channel that separates southern England from northern France. It is 22 miles (35 km) wide at its narrowest point. The English Channel joins the North Sea to the Atlantic Ocean. The shortest crossings from Europe Mainland to the United Kingdom are from
Calais in France to Dover (UK)
Calais (FR) to Folkestone (UK)
Dünkirchen (FR) to Dover (UK)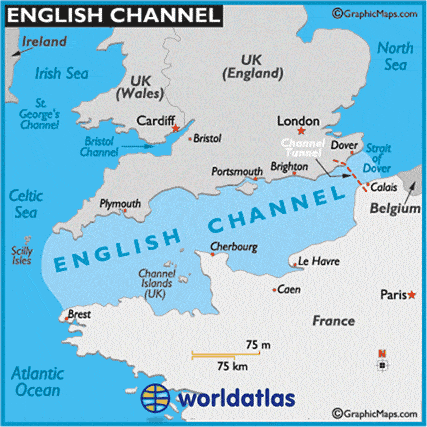 2)     The Channel Tunnel or Euro Tunnel
The railroad tunnel (the Channel Tunnel) underneath the English Channel opened in 1994. You cannot drive your car or motorcycle through the Channel Tunnel. Instead, you drive onto the Eurotunnel Le Shuttle train, which boards at the Tunnel terminals in Folkestone, England and Calais, France.
The tunnel has its own motorway (highway) exits on both sides of the channel, providing direct access to check-in points. In France, take junction 42 off the A16 motorway and in the U.K., take junction 11A off the M20.
Here is a video going form Calais to Folkestone that shows you step by step to get go through the Chunnel.
The crossing is by far the fastest way to traverse the English Channel with your car. The Euro Tunnel is 31.4 miles or 50.5 kilometres long and the ferry time is around 35 Minutes.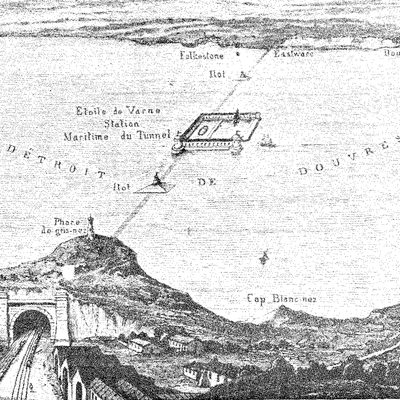 Thomé de Gamond's plan of 1856 for a cross Channel link. Picture courtesy of Wikipedia
Tickets & Prices Eurotunnel
We looked for prices of a standard car leaving 48 hours later on a Sunday. The cheapest fare we found was between 122€ to 151€. The most expensive ticket was the Flexiplus ticket for 307€ for all departure times.

It is promoted that the cheapest standard fare for the Eurotunnel is around 55€ for a one way trip.  We could not find this ferry price on the Eurotunnel website. Even when we looked to book a car ferry early, like 2 to 3 months ahead, we only could find the cheapest train ticket at 101€. As you can see in the table below the Flexiplus tariff stays all the time the same.

The Flexiplus ticket gives you the possibility to alter the date and time. You will have a dedicated check in and an exclusive departure lounge with refreshments, newspaper etc.

The Standard Eurotunnel ticket has some flexibility as well and can do more then you think. Read on.
What if I miss my departure time for the Eurotunnel or am too early?
I have a Standard Eurotunnel ticket what if I am to early or to late? According to Eurotunnel Le Shuttle; if you check-in within 2 hours either side of your booked time, they usually offer you a space on the next departure with availability without charge.

If you check-in more than 2 hours before or after, but no more than 24 hours before or after your reserved time, your booking may be exchanged, subject to availability and payment of the difference between the price you paid and the price applicable to the departure for which your booking is exchanged.
If you arrive more than 24 hours after your booked departure time, your booking will be invalid and cannot be exchanged.
At check in you will get the choice of times and you pick the one you want. The thing to remember is if you miss your slot somebody else may be put on, which will create a space on later trains. You want to bear in mind that vehicles over 1.85m will limit your choice further as not all trains have the high roof.
3)     Cross the channel by ferry
As the UK is an Island, travelling by Ferry was and still is a very popular and well developed mode of reaching England. Important shipping companies for the English Channel and North Sea are DFDS Seeways, P & O Ferries and Stena Line. Depending on what your end destination in the UK is, you have a choice of many North Sea ferry routes. Here are the most popular.
Calais (FR) – Dover
Dunkirchen (FR) – Dover
Rotterdam (NL)  – Hull
Hook of Holland (NL) – Harwich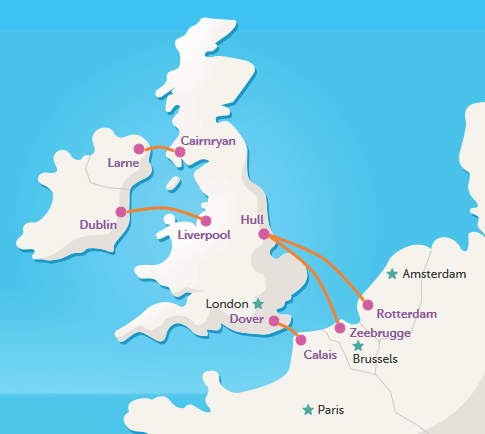 Some routes across the North Sea, Picture courtesy of P&O Ferries
4)      Calais to Dover
There are 2 important operators, P & O Ferries and DFDS, which will take you from the port of Calias to the port of Dover. The P&O car ferry sails the English Channel up to 23 times a day and the crossing with a boat is shorter then you might think. It only takes 90 minutes. The P&O websites writes that there are plenty of exciting landmarks on the way. Have you every heard of the white cliffs of Dover? Now is your chance to see them.
Another operator is DFDS which crosses the channel 15 times during the week.  DFDS is a Danish international shipping company and they seem to be consistently cheaper then P & O Ferries. Traveltime on the ferry is also 90 minutes.
We looked at both companies for a Short term price for a standard car – booking 48 hour ahead.
Here are the prices for P & O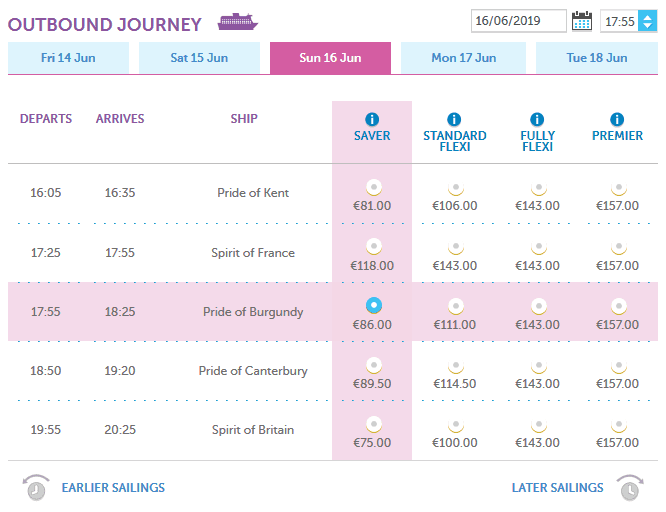 Depending on what kind of Ferry Tariff and what departure time you choose with P & O it will cost you between €65 and €157. With the cheaper Saver Ticket you have to travel as booked and these tickets are non-refundable. If you did not manage to make it to the harbour on time you will have to pay a booking change fee, which is 25€ plus the difference for the next ticket.
Bellow you can find the differences between the Saver, Standard Flexi, Fully Flexi and Premier Ferrie Tickets.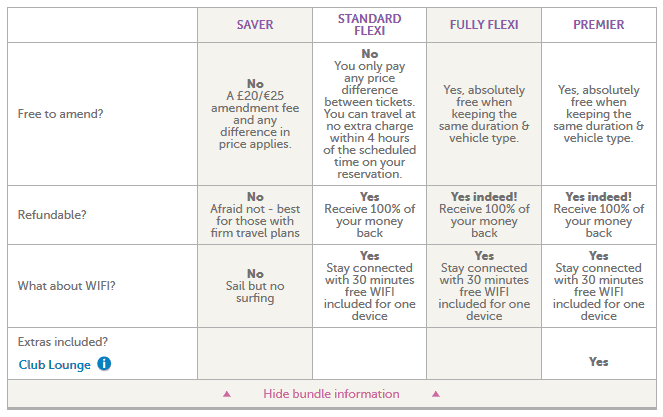 The latest and greatest Calais to Dover prices you find on the P & O website
Here are the prices for DFDS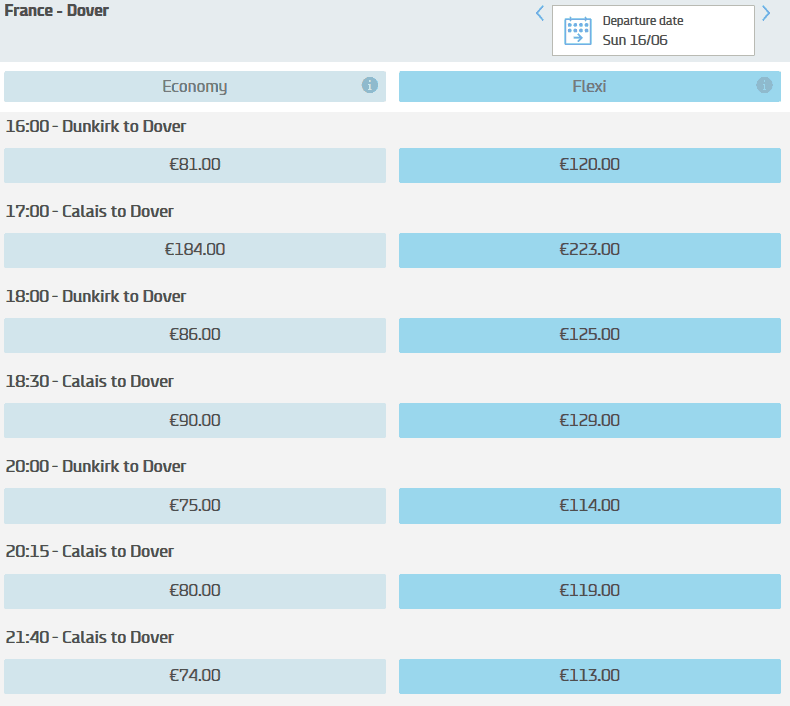 As you can see there are difference between DFDS and P & O. So a comparison between these two large shipping companies certainly will pay off. DFDS has two tariffs Flexi and Economy. With the economy crossing it is possible to take 1 ferry earlier or a later.
Economy
Travel on one sailing before or after your crossing time for free (+/- 4 hours of booked crossing, subject to availability).
Please note there is a charge for amendments.
Cancellations are non-refundable on this type of ticket.
Flexi
Flexibility to amend your booking on arrival at port to travel up to 72 hours either side of your booked crossing time for free, subject to availability.
No administration fees – only pay the difference in the fare to travel more than 72 hours either side of your booked crossing.
Full refund up to 48 hours before travel.
5)     Ferry Dünkirchen (FR) to Dover (UK)
The only car ferry from Dunkirchen to Dover is operated by DFDS. The crossing takes 30 minutes longer then Calais to Dover and has an estimated time of 2 hours. The ferry takes you across up to 12 times a day. Prices from Dunkirchen are about the same as from Calais.
This video shows you what you can expect on board of a DFDS ferry boat.
6)     Rotterdam to Hull
If you are not travelling to the South of England but need to go to the Midlands or North England then the boat route to Hull could be your better choice.
Hull official name is Kingston upon Hull but is usually abbreviated. The port city lies about 25 miles (40 km) inland from the North Sea and serves the East Midlands, Yorkshire and Lincolnshire. The two nearest big cities are Leeds and Sheffield.
Duration
The trip from Rotterdam (NL) over the North Sea to Hull by car ferry will take place over night and will have a travel time of 11 and half hours.  You leave in the evening at 21:00 hours and arrive the next day at 07:30 in the morning. An inside standard cabin is included in the price but you can upgrade to a more luxury one. The ferry boat is operated by P&O Ferries.
Price
We checked two prices. One option was leaving on Sunday, which would set you back 517,25€ for the saver ticket and the other option was leaving on Monday evening which was considerably cheaper 327,50€ for the standard cabin with no refund.


The difference between amenities offered with the boat tickets are considerable but so are the prices. You will have for most options a free 30 Wifi included. You can choose between no meal, breakfast only or breakfast and dinner. Further there are Standard cabins inside, Standard cabins outside and Premier cabins outside. Note that you have to have a cabin booked during a night crossing.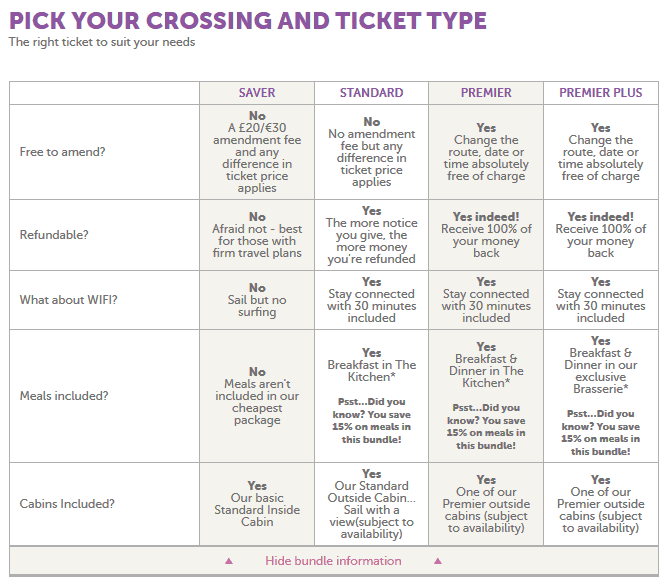 The latest prices to Hull you find on P & O website.
Alternative Route
You could instead take the shortest crossing and then drive up to Hull. The driving time with a car from the Dover Ferry Terminal to Kingston upon Hull will be about 5 hours and 45 minutes (261 miles / 420 km). Don't forget to add to that the crossing time from Calais (FR) to Dover off 90 Minutes with the ferry or 35 Minutes for he Eurotunnel
7)     Hook of Holland to Harwich
This ferry is operated by Stena Line and sails the North Sea twice a day. It departs at 13:45 and has a crossing time of 7 hours. It also departs at 22:00 with a 9 ½ hour crossing.
The cost for a one way Ferry on Sunday the 16th was 132,50€ leaving at 13:45 and arriving at 19:45 in Harwich. To travel during the night will cost just over a 100€ more plus you have to book a cabin which range from 48€ for one person to 120€ for a family of 5. On top of that you can book dinner and breakfast. If you want to take your dog with you that is another 20€ extra.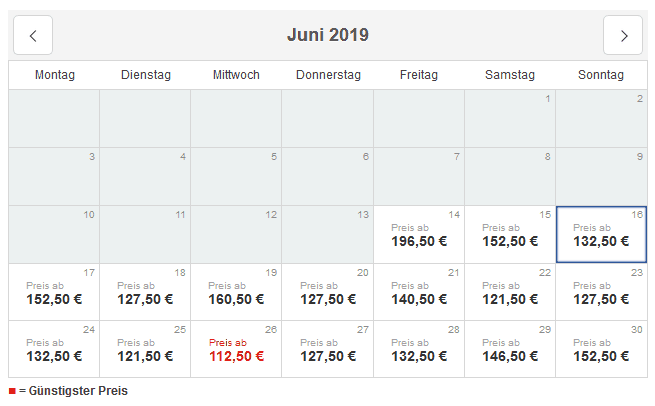 The Stena Line offer 3 ticket classes. Economy, Flexi and Premium. Economy Tickets cannot be cancelled and changes can be made, but will incur an amendment fee and the difference in fare.
With the Flexi ticket you can amend your booking without incurring an amendment fee – you simply pay the difference in fare. Plus you can get up to 100 % refund should you need to cancel your trip altogether up to 24 hours of departure. You amend free of charge your booking including meals, cabins, etc. You pay, if applicable, the difference in fare when you change online.
8) Links to Website – Ferry & Train
As prices for the ferries change daily it is the best to have a look on each of the discussed ferry companies' website.
You can also compare prices on the following two comparison website. But you should keep in mind that you always book your ferry tickets better direct.
9) The cheapest channel crossing with your car to England
In our research we found that for a short term booking the ferry from Calais to Dover was the cheapest with 81€.
For Long term bookings, 2 to 4 months ahead, we found the following prices for one way crossings:
68€ Ferry Dunkirchen – Dover Ferry
78€ Ferry Calais – Dover
101€ Eurotunnel train Calais – Folkestone
10) The fastest way to cross the channel to England with your car
The fastest way to get your car from mainland Europe to the United Kingdom is the Eurotunnel. The time of 35 Minute crossing is unbeatable. However if you love to watch the scenery and want to give you kids a great boating experience the travel time of 90 minutes with a ferry might also be a consideration.
11) The easiest way to get across
Again we have to vote for the Eurotunnel le Shuttle. It can be busy sometimes but the convenience of staying in your car and just drive on and drive off is really the easiest way to get across the English Channel. If you rather want to stretch your legs and breath in some sea air, you are better off to take one of the ferry boats.
12) Driving with a foreign registration number in the UK
You have to understand that the UK Government have strict rules about driving with a foreign number plate. For Holidaymakers it is usually no problem to drive a car in the UK as long as :-
Your car is registered and taxed in its home country
You are visiting the UK and don't plan to live there
You only use the vehicle up to 6 months in a 12-month period (1 single visit, or several shorter visits adding up to a 6-month period)
For UK residents it is not allowed to use non-UK registered vehicles on UK roads. The only exceptions are if you:
work in another European Union (EU) member state and use an EU-registered company car temporarily in the UK
lease an EU-registered car and use this temporarily in the UK
If you become a resident or stay for longer than 6 months you must register and tax your car in the UK and follow the steps for importing a vehicle.
13) If you're stopped by the police in the UK
If your car has non-UK number plates and you're stopped by police, you must show: you can use the vehicle in the UK without taxing and registering it here. You may have to show proof of the length of time you've been in the UK (eg a ferry ticket) or evidence that you and the vehicle are eligible for customs relief.
14) Before you sail off
Before you cross the North Sea or the English Channel either with a ferry or the Eurotunnel, you should think about the following:
All passengers must have a valid passport, even the pets
Make sure your insurance covers you abroad. Does it have European breakdown cover?
You are crossing either from France, Belgium or the Netherlands, so make sure you comply to their laws driving a car
Don't take Firearms, Fireworks, Liquefied petroleum gas with you
Make sure you check what you can and cannot take in your car on the ferry boat to the UK
On the ferries there might be Duty free shops. If you buy alchohol, cigarettes, etc. make sure you don't exceed the allowed free import of goods
Check In. You must check in at least 30 minutes before departure with the Eurotunnel. Each Ferry has a different policy, so look up on the website of the shipping company or check your ticket when you have to be at the ferry terminal.
Did you know that the Folkstone Eurotunnel is only 13.5 Miles (22km) away from Dover Port?
Resources
RAC – Channel Tunnel – car and driving video guide
https://www.rac.co.uk/drive/travel/driving-abroad/channel-tunnel/
UK Government – Importing vehicles into the UK Temporary / Temporary import
https://www.gov.uk/importing-vehicles-into-the-uk/temporary-imports
UK Campsite.co.uk – anyone been late for Eurotunnel?
https://www.ukcampsite.co.uk/chatter/display_printer_threads.asp?ForumID=7&TopicID=343782
Have you travelled to England by car? What was for you the best way to get there that I didn't mention in this guide?